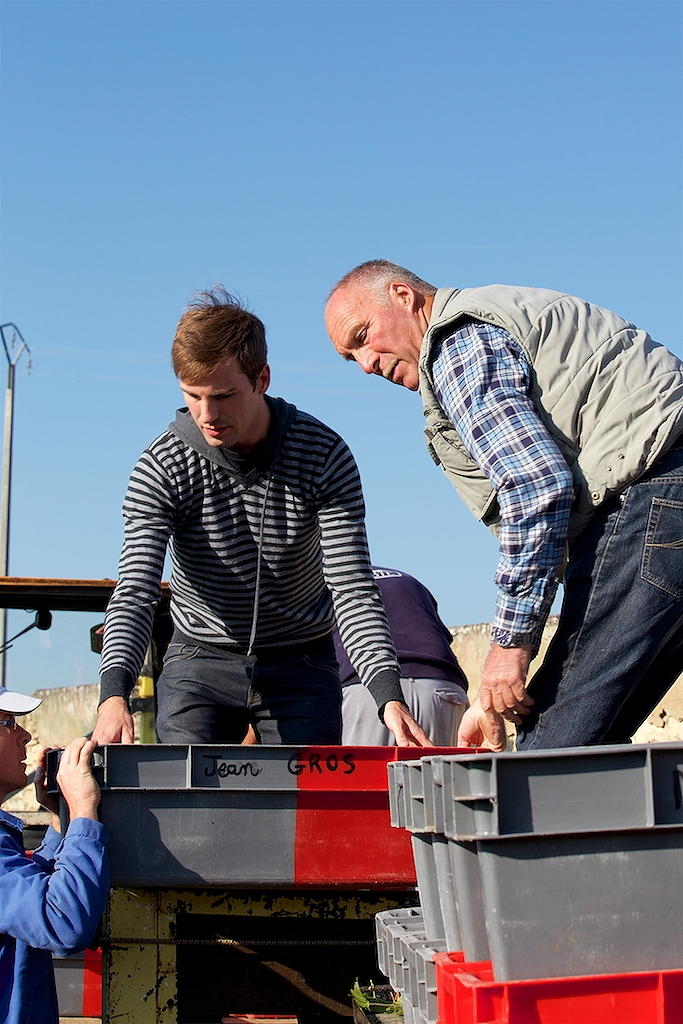 In Burgundy, every vintage gives very different wines and imposes continuous adjustments. The following description is therefore flexible according to annual variations.
However, the same process is used and the same care is taken for both Bourgogne and Clos Vougeot wines, whatever the level of appellation.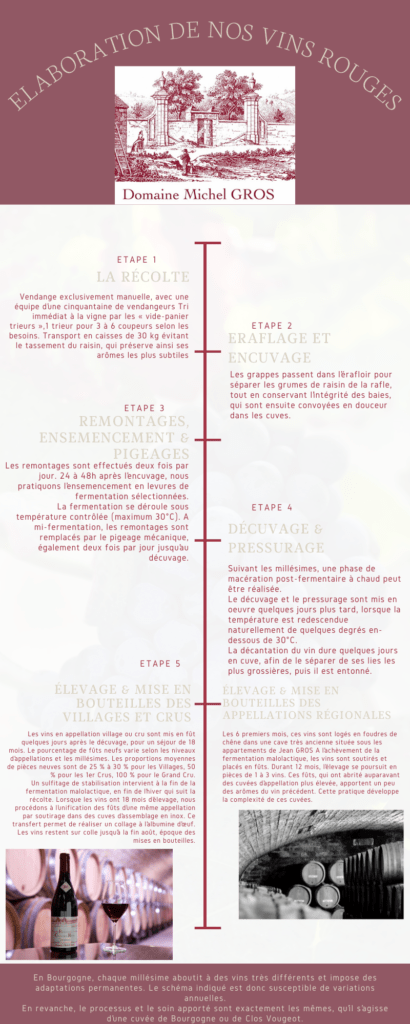 ---
Exclusively hand-picking, with a team of around fifty pickers. Immediate sorting out of the grapes in the vineyard by the "basket-emptiers-sorters", 1 sorter for 3 to 5 cutters according to the need. Transport in 30 kg plastic grape bins avoiding the tamping of the bunches, which thus preserves its most subtle aromas.
The bunches pass through the destemmer to separate the grape logs from the stalk, while maintaining the integrity of the berries, which are then gently conveyed into the vats.
---
The pumping over is carried out twice a day. 24 to 48 hours after vatting, we add selected fermentation yeasts.
Fermentation takes place under controlled temperature (maximum 30 ° C). Halfway through complete fermentation, pumping over is replaced by mechanical punching down, also twice a day until devatting.
---
Depending on the vintage, a hot post-fermentation maceration phase can be performed.
Devatting and pressing are carried out a few days later, when the temperature has naturally decreased a few degrees below 30 ° C.
The decanting of the wine lasts a few days in the vat, in order to separate it from its coarsest lees, followed by the casking.
---
The wines in the village or cru appellation are transferred into barrels a few days after devatting, for an 18 months stay. The balance between new barrels and barrels having already been used for a previous vintage depends on the level of appellation and the vintage. The average proportions of new barrels are about 25% to 30% for the Villages, 50% for the 1er Crus, 100% for the Grand Cru.
A stabilization sulphiting takes place at the end of the malolactic fermentation, usually at the end of the winter following the harvest. When the wines are about 18 months old, we blend the barrels of the same appellation by racking in stainless steel blending vats. We take advantage of this transfer to fine the wines with egg white albumin. The wines are kept "on fining agents" until the end of August, when they are bottled.
---
During the first 6 months, these wines are kept in large oak casks in a very old cellar located underneath Jean GROS's house.
At the end of the malolactic fermentation, the wines are racked and placed in barrels. For 12 months, maturing continues in traditional barrels of 1 to 3 wines. Those barrels, which previously have stored higher ranked, give a little of the aromas of the previous wines. This technique improves the complexity of those cuvées.